A custom plumbing truck can take your fleet or small business to the next level. There are numerous things to consider when designing such a vehicle; we will discuss your needs, possible interior and exterior modifications, and specialty equipment that you can purchase in this article. We end with detailing some safety concerns to remember as you customize your plumbing truck.
The Jim Ellis Commercial team is ready to get you behind the wheel of the perfect cargo van or other work vehicle for your plumbing business. Our experts can help you figure out the best dimensions for your needs, and our finance team will go above and beyond to try and secure you the low-rate financing package you deserve.
---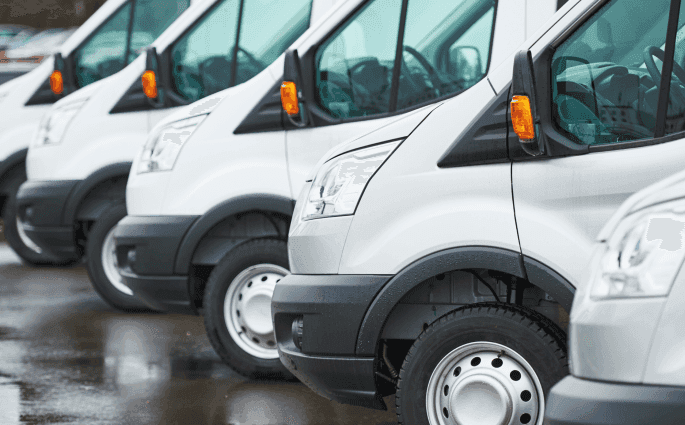 Assessing Your Custom Plumbing Truck Needs
As you consider different custom truck storage ideas, you'll need to determine your unique needs. When you're upfitting a commercial vehicle, there are many different ways to do so. You'll want to consider your clientele: are you generally working in residential units, or do you mostly handle corporate clients and their offices? The type of business you do will influence the design of your custom plumbing truck.
If you frequently use a ladder, you'll want to make it easy to take down and stow this equipment. Folks who mostly work in residential plumbing will need access to different parts and tools than those who generally work in commercial buildings. You also have to consider your work style: are there certain tools you can't do without? Making them easy to access will be key to an upfitting that works for you.
---
Exterior Plumbing Van Modifications
As we noted above, ladder storage and accessibility are important for some plumbers. This is likely to be especially true for folks who work in commercial buildings, where vertical jobs are more common. If you frequently carry pipes that cannot fit inside your van or truck bed, you'll also want to consider how your exterior racks will handle these crucial pieces. Our expert team can help you pick out the best exterior storage rack for your business.
Depending on the jobs you take on, you may want roof storage or additional exterior racks. Roof storage bins allow you to store fittings, tools, and other important bits. Racks, on the other hand, are best for ladders, long pipes, and other large items that cannot be easily stowed inside the vehicle. Only you will know which of these you need – but our team can help you customize your plumbing truck once you share your vision with us.
The other factor you'll need to think over as you design your custom plumbing truck's exterior is your business branding. You probably want the company logo on at least one side of your van or truck. Including contact information, generally a phone number, also makes it easy for folks to give you a ring after they see your vehicle go by. Allow us to help you sort this out: we can work with you to customize your plumbing van for a fair price.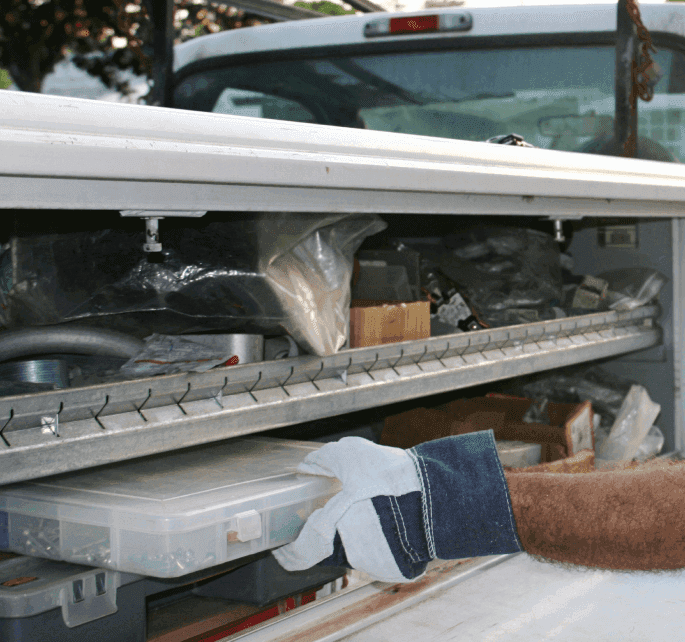 ---
Interior Plumbing Truck Storage Solutions
There are a number of different ways to customize your plumbing truck. Crossbed toolboxes are a great option for pickups, as they fit your vehicle and allow you to neatly carry a variety of parts and tools. These boxes often include locks, allowing you to securely store your items even when you're away from the truck.
Another popular storage option is a side tool compartment. This storage solution affixes to the wall of your truck bed or van and enables you to access the necessary tools or parts easily. Instead of climbing into the truck to reach a crossover toolbox, a side compartment can be accessed from ground level. A similar option is an underbody toolbox. This rests at the bottom of your vehicle, allowing you to open it easily when you're standing behind your custom plumbing truck.
There are numerous other possible storage solutions for your plumbing vehicle. Decked drawers, drop-down ladder racks, and custom shelving options can all suit your needs and preferences. Our team has cataloged other work truck storage ideas for you to consider before you reach out to us about upfitting your new work vehicle.
---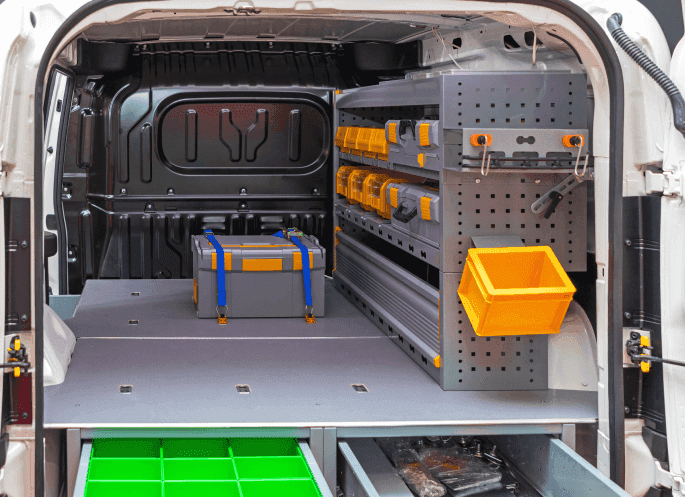 Speciality Plumbing Equipment
When you are designing a custom plumbing truck, one of the first things that comes to mind is: how will I carry pipes? A pipe rack or tube carrier on the outside of your new plumbing vehicle is a great option for solving this problem. These are easy to integrate into the overall design of a vehicle; you can fit ladders and pipes on the outside of most plumbing trucks and vans.
Another popular choice for some folks is a water or holding tank. If you frequently find yourself on remote job sites, this feature can be a lifesaver. It's not difficult to mount a water tank in your truck bed or the back corner of a cargo van, especially for our team of experts. Consider the different options in our cargo van inventory, and you'll see that there's plenty of room for a water or holding tank.
Depending on the type of work you do, a pressure washer might also be worth including in your custom plumbing truck. This versatile tool allows you to present a clean setup to your client, which helps you secure repeat business and word-of-mouth recommendations. We have more ideas that you may want to consider on our more plumbing vehicle information page.
---
Plumbing Truck Safety
You'll want to ensure that your vehicle is equipped with straps and other equipment that can keep tools and parts from shifting as you drive. Otherwise, things can break, which hurts your bottom line. The last thing you'd want is to open the back of your custom plumbing truck to find a pile of smashed fittings and a ruined tool.
Any plumbing vehicle should contain a fire extinguisher. While you are not terribly likely to need it on any given day, it's much better to have it and not need it than the opposite. Whether it's your vehicle or the property you're working on, being able to stop a fire is worth getting an extinguisher in the truck. In the same vein, a first aid kit is also a good idea. These items should have a place that is out of the way but easy to access.
When designing a custom plumbing truck, it's important to take weight distribution into account. If the vehicle is weighted heavily toward the right or the left, then the chances of a rollover increase. You can also be pulled off course as you drive if the weight of your cargo is not even, which is rather dangerous. Your fuel efficiency can also be affected, and components of your vehicle, like your tires, may wear unevenly, causing you to need premature replacements. Luckily, accounting for weight distribution is something our plumbing truck safety experts can help you with.
Visit us today to get the ball rolling on your custom plumbing truck. We can upfit your van or truck to meet your needs and specifications. The whole Jim Ellis Commercial team looks forward to doing business with you.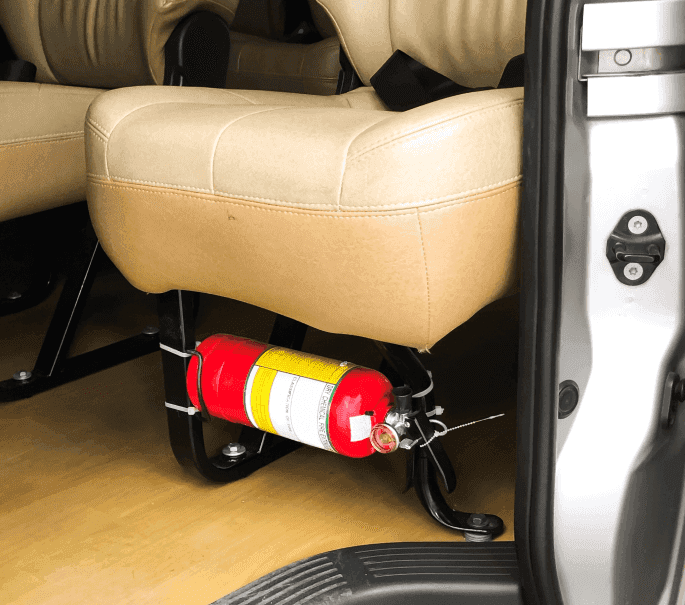 ---
Frequently Asked Questions
Are there specific storage options for small plumbing parts and fittings?
You can build custom storage solutions for just about anything, including small plumbing parts and fittings. Drawers and cubbies can be designed to effectively sort the many different parts you use to be an effective plumber. The Jim Ellis Commercial team has tremendous experience building custom storage solutions for professionals ranging from plumbers to exterminators. Visit us today to get started.
What are the benefits of using a ladder rack for my plumber truck?
Using a ladder rack greatly reduces the chances that your ladder will come off the vehicle during travel, and it frees up other space to store parts and tools. This is generally the best way to go, as jury-rigged solutions are liable to fail at any time. Please reach out to our team today to discuss outfitting your vehicle with a ladder rack.
Where can I find professional assistance for optimizing my plumber truck storage?
The Jim Ellis Commercial team has a great deal of experience upfitting vehicles to serve the needs of professionals and their small businesses. We can transform a truck or van into an optimized plumbing vehicle to meet your needs. Whether you're looking for crossbed toolboxes, a ladder rack, a pressure washer, or storage solutions for fittings and parts, we've got you covered.