If your plumbing or exterminator business relies on utility body and service body vehicles transporting your crew from client to client, you may be looking for work truck storage ideas to make the most of your space and help you be as efficient as possible.
When it comes to efficiency, organization is key. In addition to having a dependable and capable truck, you want to do your best to keep your work truck organized so that you have easy access to tools and equipment. The Jim Ellis Commercial team has assembled a list of construction truck storage ideas and work truck organization tips to help you maximize your new plumbing van or exterminator truck.
---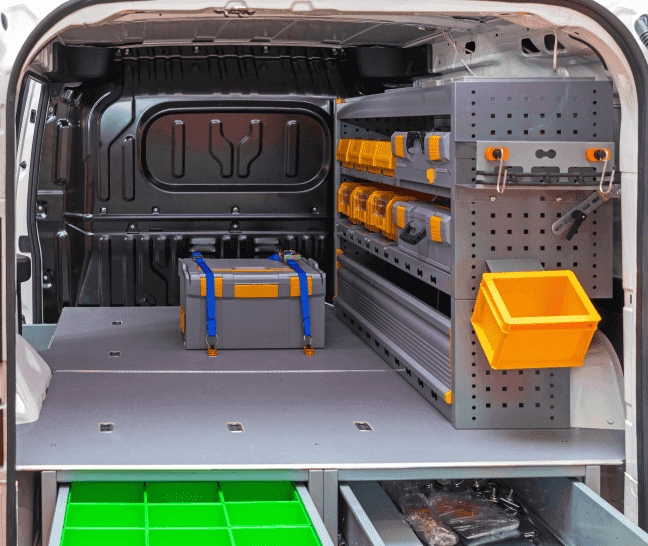 Service Body Organization Tips
When upfitting a commercial truck, there are many ways to go about it. That said, we know that not everyone has the same needs. So to illustrate a few examples, we've put together work truck design options and HVAC truck storage ideas to get you started.
Crossbed Toolboxes
As the name suggests, crossbed toolboxes sit across your truck bed. They utilize the entire width of your truck bed, allowing large tools to be safely stored. Not only is this work truck storage option designed to keep your tools out of the elements, but they can also be locked to keep your tools safe when you're not next to your truck.
Side Tool Compartments
Crossbed toolboxes are a fantastic storage option, but one of their drawbacks is that you have to get into the truck bed to access them easily. If you regularly need access to your tools, we recommend you look into side tool compartments, which allow easy access to your equipment and are a popular option.
Underbody Toolboxes
Quick access is important. If you want to avoid climbing in and out of your truck throughout the day, an underbody toolbox is another convenient storage solution for work trucks. Underbody toolboxes come in many materials ranging from steel to aluminum and allow for a secure way to keep your tools safe while maintaining quick accessibility when you're on the job.
---
Decked Drawers
Looking for custom work truck ideas that don't take up usable space in your work truck bed? Consider looking into decked drawers that mount to the side of your vehicle. Decked drawers allow you to keep your tools and equipment organized in a durable container without taking up valuable bed space.
Drop-Down Ladder Racks
When you load your truck bed with equipment and tools, you often lose access to space for hauling additional materials. Opt for drop-down ladder racks to safely and securely store equipment on top of your truck and keep your bed free of gear.
Custom Shelving
Installing custom shelving is one of the most popular solutions for plumbers with varying pipe lengths and those looking for pesticide van storage ideas. With customized accessories and shelves, you can design a custom work truck interior that achieves all your needs. From the ability to customize a shelf for a specific tool to adding specific doors and partitions to cater to your job, custom shelving can help you take your productivity to the next level.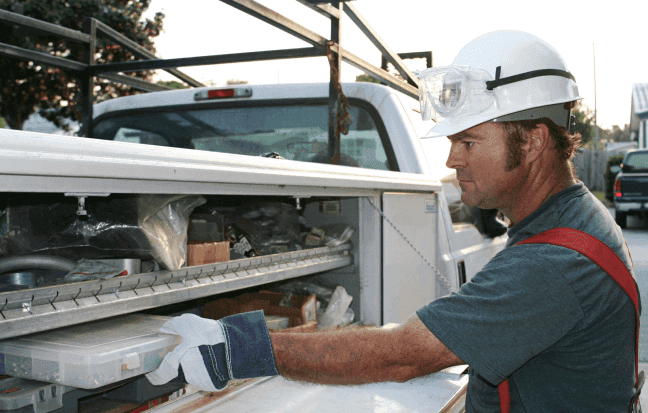 ---
More Work Truck Storage Ideas in Atlanta, GA
We hope we've provided some useful work truck storage ideas for you to consider when custom-building your next pest control truck or designing a plumbing van interior. Our team is here to help with custom plumbing van sets. We can review your upfit options and help you add your logo to your new high-top van.
The work truck storage options are endless at Jim Ellis Commercial. We offer a full selection of cargo vans for pest control, HVAC technicians, plumbers, and more. If you're looking for work truck storage ideas, get in touch with our team. We're here to help your business grow.
Frequently Asked Questions
How do you store PVC in a van?
When plumbers and electricians need PVC storage solutions for your commercial van, a custom-fit roof rack is an excellent option. Jim Ellis Commercial can custom-fit a roof rack to your commercial van. Please contact our commercial vehicle dealership and service center to learn more about your custom upfit options for HVAC, plumbing, and pest control vehicles.
How do you organize a construction van?
The best way to organize a construction van is to create easy access to the tools you use consistently and design a work truck storage system that allows for specialty tools to be accessed and oversized items to be stored. For work truck storage ideas, contact Jim Ellis Commercial and learn more about custom truck interior strategies for plumbers and electricians.
Do you need a bulkhead in a van?
A van bulkhead organizes tools, cargo, and equipment in work trucks and is necessary for preventing accidents from shifting equipment. An abrupt stop while driving can cause tools and equipment to shift suddenly, creating a dangerous situation. To maintain the safety of the workers using your commercial van, we suggest having a bulkhead professionally installed at Jim Ellis Commercial.