Used Commercial Trucks for Sale
If you are looking for pre-owned commercial vehicles to grow your fleet, take advantage of our great selection of used work vans for sale. Jim Ellis Commercial is proud to offer a versatile selection of used commercial trucks, passenger vans, and work vans for sale. When you are ready to take the next step with your business, come to our commercial vehicle dealership in Atlanta, GA.
---
Atlanta Commercial Truck Sales
Our commercial vehicle dealership carries various commercial and work vans for sale. You'll find what you need in our selection when you need vehicles upfitted for electricians, plumbers, and delivery companies. We have box trucks, pickups, and used commercial vans for sale designed for many of the following vocational upfits:
It doesn't matter if you're shopping for courier vans for sale or vocational vehicles for a different industry; you want reliability, versatility, and performance. You also want a vehicle that meets your specific needs. We carry commercial trucks and used work vans for sale designed for delivery, telecommunications, plumbing, HVAC work, construction, telecommunications, and more.
Whether you're exploring vans, box trucks, or used utility vans for sale, you'll find a range of options at our fleet dealership. If you're shopping for a used box truck for sale, be sure to check out our current used vehicle specials.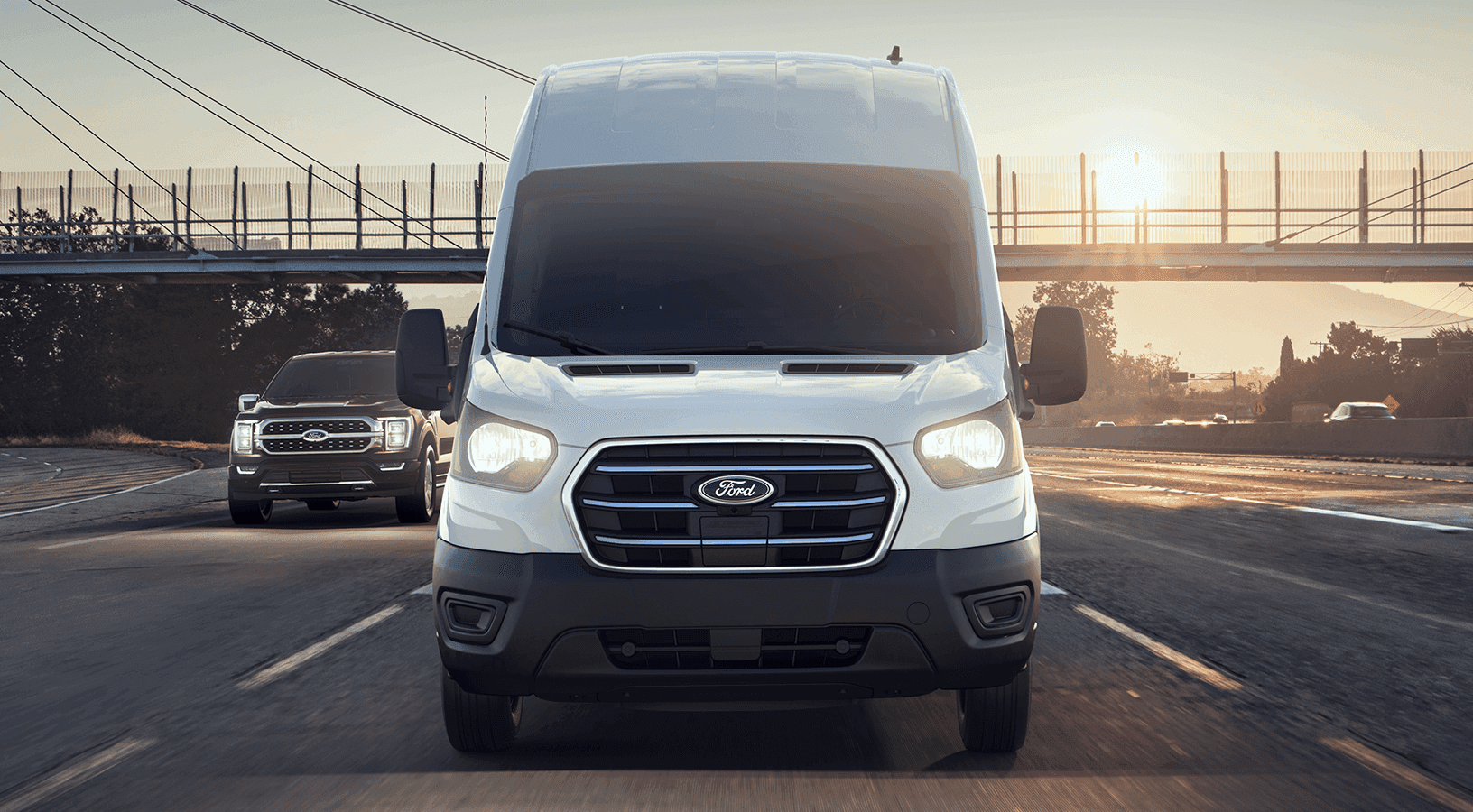 ---

Custom Order Commercial Vehicles and Upfits
If our used work vans for sale don't currently feature the precise style you need, you can order custom fleet vehicles at our dealership. When customizing a commercial van or truck with our team, you can design the interior with your desired features to streamline productivity.
It can be hard to find the exact vehicle you need to help your business grow. Are you looking for a high-roof van to accommodate equipment and your tall employees? Or maybe you want a commercial vehicle with custom shelving for pipes and conduits. In that case, a custom order upfit is a great way to go. At our commercial vehicle dealership, you can design interior and exterior upfits to custom specifications.
Are you debating between a high-roof van, chassis cab truck, or work van for sale? Get the exact vehicle you need instead of settling for a vehicle that could work. Order custom commercial vehicles through our dealership. Our team is here to help you build your business and your brand with our custom commercial vehicles. You can make your vision a reality, including adding your company's logo to your fleet.
Before buying a used construction truck for your landscaping or electrician business, sit down with our team to learn about your options.
---
Commercial Vehicle Financing
Once you choose a box truck with a liftgate for sale or one of our used courier vans, contact us to apply for commercial vehicle financing. Our finance team is here to take your loan application and build custom finance offers around your needs.
Many of our customers choose our commercial vehicle dealership when they're starting their business because we offer used commercial trucks and small cargo vans for sale in our pre-owned vehicles under $25K.
Used Work Trucks for Plumbing and Electricians
When you need a truck that works as hard as you, you need our selection of used trucks for sale. We offer work trucks that deliver a range of towing and payload capabilities to help you transport livestock and haul gravel.
Commercial Vehicle Repair and Maintenance
Your business likely relies on meeting tight deadlines and making it to appointments on time. When your fleet is on the road, your business will thrive. But if your vehicles aren't running like clockwork, the business will suffer. That's why commercial vehicle maintenance is essential to your success.
Our professional service department handles your business's fleet repair and service. After you order a custom upfit van or take home a used pest control truck from our dealership, we hope you'll choose our auto repair shop and oil change center for all your commercial auto repair needs.
Commercial vehicles log heavy miles and are designed for long hauls, but they need consistent maintenance to ensure reliability, performance, and safety. When it's time for a tuneup, oil change, or tire rotation, look at our current auto repair specials and discounts to see where you can save.
Frequently Asked Questions
What is considered a commercial vehicle?
Any vehicle primarily used for business is considered a commercial vehicle. Commercial vehicles transport equipment, crew, property, and passengers. Plumbing vans, exterminator trucks, and HVAC trucks are examples of commercial vehicles. Contact our commercial vehicle dealership if you are looking for used work trucks for sale and fleet vehicles. We can take you through our upfit options and pickup trucks for construction, electricians, and plumbers.
Can a commercial vehicle be used for private use?
If you are looking for a commercial-grade vehicle with heavy-duty performance that can be used for personal use, we suggest the great selection of new and used HD trucks for sale at Jim Ellis Commercial. Used work trucks for sale and pre-owned pickups are excellent options for contractors to use on the job site and for their daily drives.
Do commercial vehicles need to be inspected?
Yes, commercial vehicles are subject to various inspection requirements and certifications depending on their use, industry, cargo, and application. For instance, used passenger vans will have different inspection requirements when carrying passengers than used work trucks transporting equipment and hazardous materials. Be sure to follow the regulations and maintenance schedule for your vehicle and vocation to ensure compliance and safety.